We create IDX integrated websites for Realtors® that generate leads.
We design, manage, and market real estate websites for independent agents, realtors®,  brokers, and brokerages.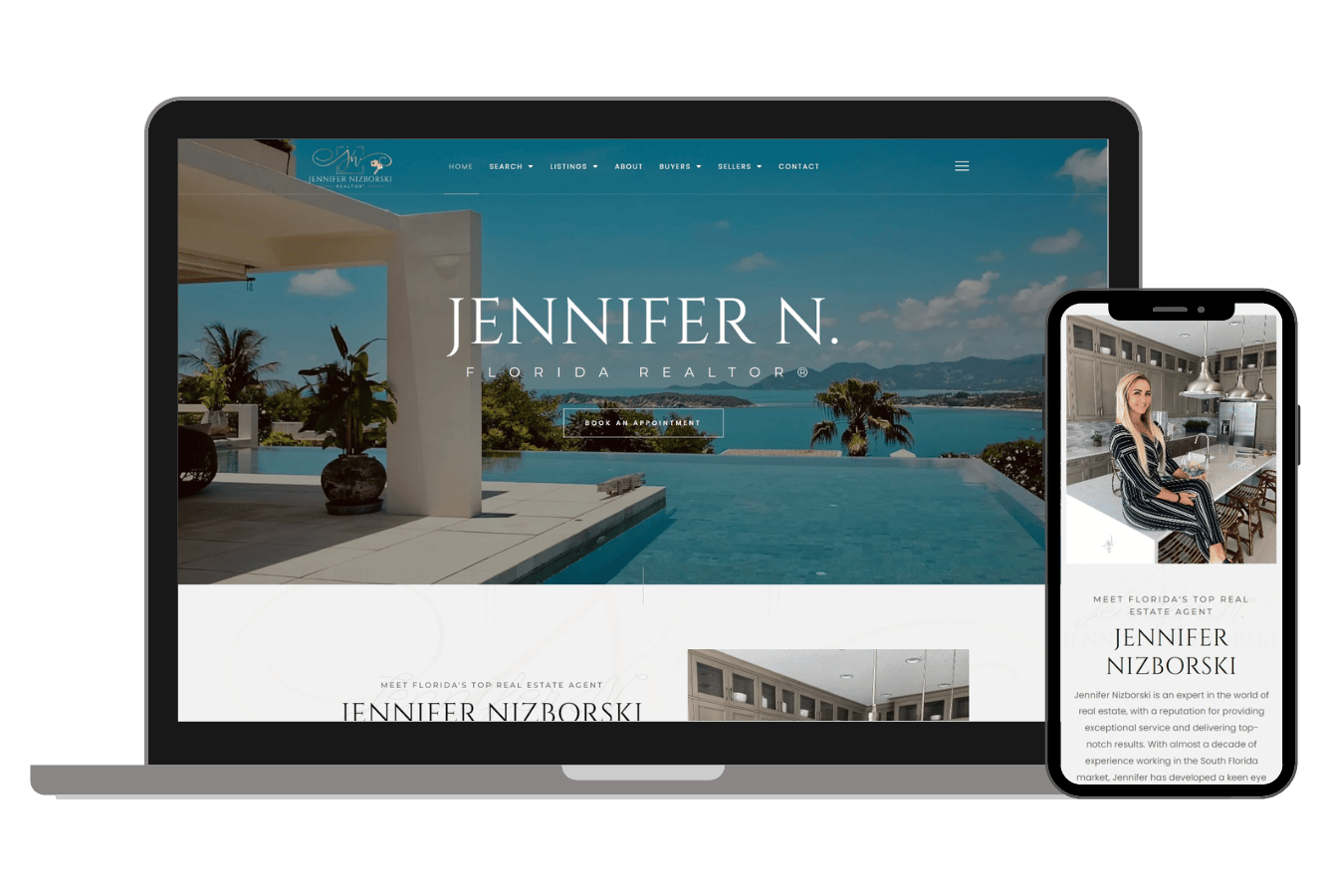 We design, manage, and market real estate websites for independent agents, realtors®, brokers & brokerages.
The real estate industry is no doubt competitive. With a strong online presence, your business will increase its chances of success by generating leads organically through optimal search generation. A professional website allows you to capture leads, respond immediately, and follow up effortlessly.
We are a premium yet affordable real estate website builder company serving clients from USA and Canada. We create custom real estate website designs for independent agents, realtors®, brokers, and brokerages. We look at your business profile from your goals to website likes and dislikes, current branding to real estate listings, and develop a customized and professional real estate website design and Search Engine Optimization plan.
Oley.io is a team of creatives and real estate website developers who love to connect and collaborate with real estate professionals to carve website masterpieces.
We create aesthetically beautiful IDX Real Estate Websites that captures the attention of potential clients.

We build custom IDX Web design, manage, market, and enhance your SEO and Google ranking, so you can focus on the business of connecting with people.
Our graphic designers will create exceptional branding options for logos, business cards, and printed materials for all of you real estate needs.
We create aesthetically stunning and mobile responsive WordPress websites that appeal to your targeted customers bringing you leads.
Marketing is at the heart of any business. Our real estate marketing strategies provide your business with top Google search rankings, saving you thousands of dollars in advertising ads.
We provide complete real estate website maintenance and site security packages. We use advance plugins and codes for securing your website from hackers.
Search Engine Optimization
We perform real estate SEO on your website to enhance your local Google rankings, so that you can generate leads organically and save a lot of time.
We manage your social media accounts and keep your audience updated by designing interactive posts, so you can focus on your business.
Stand Out With These Amazing Features.
We're proud to create amazing customer experiences. Here are just a few of our loyal customers who are happy to share how we've helped them achieve success.
Clients we've worked with
Frequently Asked Questions
Why should you choose Oley.IO?
The answer is simple: We are specialized in Custom Real Estate Website Design and IDX MLS Integration.
As the saying goes; Jack of all trades, master of none. Other website design companies cater multiple industries which divides their experience and attention for detail. On the contrary, we at Oley.IO, have been highly focused to serve real estate agents, Realtors®, brokerages and real estate firms only.
Over the years we have gained valuable experience by providing high-end real estate web solutions to our clients from all over USA and Canada. With a demi-decade of technical experience and our partnership with top IDX services provider, we have successfully placed our brand as the best real estate website builder.
Do you recommend any IDX provider?
Yes. We recommend using IDX Broker for their outstanding services in serving majority of MLS(s) across USA and Canada. We are IDX Web design partners of IDX Broker and have been working with them for a long time now.
With IDX Broker, we can develop a high lead generating real estate website with automatic lead capture tools like Home Valuation, Mortgage Calculator, Saved Searches, Email Alerts, Favorite Properties, and auto-reply Chat Bots.
How long will it take to complete the website?
It depends on the scope of the project. Usually a real estate agent website design process takes 2-3 weeks to completely design, deploy and launch the new website. We are always focused to create real estate website complementing your business profile and even provide after support for 14 days for free.

Complex projects that involve multiple real estate agents, teams or broker websites take 3-4 weeks in design, deployment, and launch. However, if you are in hurry and need your real estate website designed quickly, we can help you with that too for slightly extra cost.
Is there a monthly fee I need to pay?
No! Unlike other real estate website design companies, we do not charge any hidden or monthly costs. All the costs are fixed and are mentioned on the contract. Once the real estate website development process is complete and the website is launched, we handover the website you. You are the owner of the website files and database. You have complete access to your core website files (that most companies do not provide you).

In case you purchase our website maintenance package or real estate SEO services package, only then we will send you recurring invoices. We offer you option to pay monthly, semi-annually, or annually based on services you need.
Will I be able to make changes in my website by myself?
Yes! You will be able to make changes to your website easily without any prior technical knowledge.
We use WordPress content management system (CMS) with Elementor Builder to create custom real estate websites for you. WordPress CMS is an open source website development framework. In view of global statistics, WordPress CMS powers around 38% of the websites live on the internet.
WordPress CMS is easy-to-use for beginners like you, yet a powerful website development tool for real estate website builders.
Will you give me training once my website is launched?
Yes! Our expert real estate website developers will give you a 60-minute one-on-one training on zoom on how to edit, update and delete your website Pages by yourself*.
We provide you with a list of tutorials and articles to learn WordPress CMS. We also have a resource section where we publish easy to learn tutorials and articles regarding real estate website maintenance.
* One-on-one training is included in the Custom Package only. However, you can request it in our other packages with an additional cost of USD 50.
Do you provide real estate website maintenance?
Yes! We at Oley.IO have a vision to create and maintain custom real estate websites. We offer monthly, semi-annual, and annual WordPress real estate website maintenance packages at very affordable cost.
We intend to provide you the best real estate WordPress website maintenance so that your online presence is never disturbed, and you can focus on building your business only.
Will you optimize my website for Search Engines like Google?
Yes! We create search engine optimized website for you. All the pages we create are SEO friendly and optimized websites to rank on local search. We use modern SEO techniques to make sure that you overtake your competitors in local search.
Search Engines are always updating their search algorithms to rank best optimized websites in local search. Therefore, we at Oley.IO, keep learning and implementing new strategies to rank our IDX real estate websites in search engines like Google.
Besides creating SEO optimized real estate websites, we also provide dedicated real estate SEO services in which we take care of your website SEO from scratch. We do in-depth keyword research for your real estate business considering the areas and communities you serve. Moving forward, our content writers use these keywords to create SEO optimized real estate content which is not only helpful for your clients but equally effective for ranking in local search.
What about the domain name and hosting service?
Oley.IO is best website builder for real estate because we guide you from scratch to the very end of the project. We will guide you about how and where to register your domain and real estate website hosting. We have built hundreds of websites and hence have experienced services from almost all major hosting service providers. We will send you a discount link for the hosting with FREE domain registration (for first year).
Thanks so much, truly it has been a pleasure working with you on this project. We are truly satisfied by the professionalism you have demonstrated all this time and the quality of work of the web site, plus the effort of your entire team Oley.IO.
I would like to give a shout out to OLEY.IO, their production team, their marketing team, the website design they did for me. It's great, I love it.. Everything I asked for, they designed it, made it more modern which is attractive to customers these days. The timeline they did it in was exceptional fast. I would recommend their product, their services to everyone. Great People, fast response time. They were always on top of the game, always checking to make sure everything is gone okay. So go with them, they are great people, I love them, they would do exactly what you need them do.
I give your company a 10 out of 10! I found you very helpful with everything and always kept me updated about the project. Any change requests that I had, you guys made those changes quickly and finally, we ended up with an amazing looking website. Thank you!
It was definitely a pleasure working with this man, he is very efficient, accurate with his work and super easy and cool to work with. I would highly recommend anyone to work with this gentleman. It was definitely a pleasure.